Client Stories
Strategic Surveys to Navigate an Ever-Changing Business Environment
Introduction
Standard Chartered PLC is a British multinational banking and financial services company with 160 years of business behind them. With a long history of employee surveys, Standard Chartered Bank was looking for a fresh approach. In response to the considerable changes taking place in the banking industry, they wanted to engage with their people in a way that would support and inspire cultural transformation.
AN INCREASINGLY DIFFERENT BANK IN AN INCREASINGLY DIFFERENT WORLD
Standard Chartered Bank has a long history of using surveys to measure the health of their culture. However, as the industry and markets in which they operate changed, and as their workforce changed, the bank needed to begin measuring culture and listening to the employee voice in a new way. To do this, they moved their employee survey platform to Perceptyx in 2014.
David Wilson, Head of Organisation Development at Standard Chartered Bank explains, "The bank has been through considerable change. The business we were doing had evolved. The number of people we employ had grown considerably. In short, we were an increasingly different bank in an increasingly different world. So we needed to take a fresh approach. It was important to us that we had ownership over our data, had flexibility over the design of our survey and what we looked at, and that we had the opportunity to take pulses that could be integrated with global survey data."
Standard Chartered Bank worked with Perceptyx to identify their strategic priorities through a series of diagnostics and then to build surveys to address the priorities they wanted to measure.
---
Go Beyond Just Measuring Engagement
For Standard Chartered Bank, the survey has been more than just a tool to understand or measure engagement – it delivers deep insight into many facets of organisational health.
As Wilson explains, the surveys have been a vehicle for discovering what their people experience in times of change and exploring the important perceptions of those changes. "It's about probing into areas that are anecdotal to find out what the truth is."
Each year, the bank designs the annual survey to shine a light on whatever is most important to the organisation at that time. For example, during a time of significant restructuring at the Bank, the survey identified opportunities where leaders could help build understanding as to what was happening, why it was happening, and how to make the changes successful. This became a significant area of development for Standard Chartered Bank, and the survey data helped to guide the Bank through the change.
In the next survey following that restructure, Wilson and his team observed a marked improvement in people's trust of leadership.
"We identified a huge increase in trust and belief in our leaders; it was a significant spike and it was really powerful. The changes that our leaders were making were having an impact and people believed in them."
Later, Standard Chartered Bank wanted to create a crisper view of the cultural change required to achieve its potential, and the Bank invited its employees to help drive that change.
"In early September of 2018, we launched Our Purpose: Driving Commerce and Prosperity Through Our Unique Diversity. On the following day, we launched the annual employee survey, My Voice. The big focus was around our culture. We said to our people, 'If this is our purpose, what are the values and behaviours that we need to live in order to bring that purpose to life?'" The survey helped Standard Chartered Bank crowdsource data; with the help of a machine learning algorithm, they turned what they learned into a new behavioural standard for the organisation – their "Valued Behaviours."
During six years of partnership with Perceptyx, Standard Chartered Bank has conducted many different kinds of survey programs, but what stands out across all surveys is their increased effort to involve their employees during the company's time of change. As Wilson explains, "Change done to me is really annoying, because it often results in something being taken away from me. But if change is done with me and I have a voice in it, then it can be quite exhilarating and exciting. So, it's really important to engage people through change and help them define what the future state should be."
Due to the flexibility of the Perceptyx platform, Standard Chartered Bank has been able to use My Voice very strategically.
"This flexibility, in turn, has made us more flexible; we can now operate and respond to the employee voice much faster," said Wilson.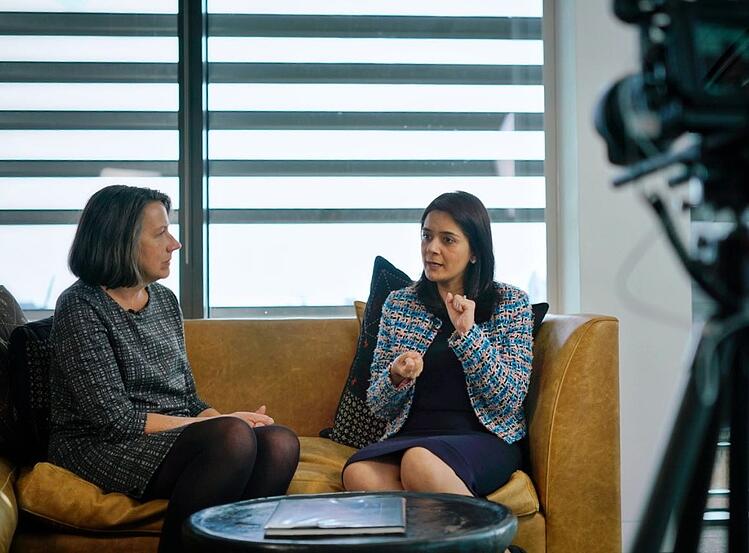 The survey program has been used to support change through restructures, to further define Standard Chartered Bank's purpose and valued behaviours, to build trust between employees and leadership, and to generally listen to their people and act upon what they learn.
"What's really powerful for us is not just what we hear, but how it allows us to evidence that we really mean change", explained Wilson. "For example, our people tell us that trust and transparency is important to them, and we tell our people it's important to the organisation as well. Yet more powerfully, the platform allows us to show that we mean it. For the first time this year, we gave all of our people full access to the global reporting site. They could see for themselves what the collective voice is saying. We think that's a pretty big statement to show we mean what we say."
A Vehicle for Two-Way Communication
For Standard Chartered Bank, the success of the annual survey program has allowed them to create an ongoing dialogue across their organisation – they've gone beyond simply listening to employees.
At the bank, every employee has a voice. Employee feedback is first reported at the executive and manager level through Perceptyx's online dashboards and automated PowerPoint decks, which deliver personalised results to every manager across the global organisation.
"When we run our survey, we do global reporting, and send executive decks to each member of our global management team. We open team reporting down to the line manager level, so managers of teams with four or more respondents get personalised reports, and then we give all employees access to the global reporting site," said Wilson.
Standard Chartered Bank encourages their managers to discuss the data with team members and respond to their feedback directly. This further increases transparency and trust.
Wilson explains, "If you ask people a question, follow up on it. We mandate managers to discuss their data with their teams openly. Collectively they should be deciding what to do with it, to continuously improve." This process encourages collaboration within teams and illustrates to employees that their voice is being heard, building trust in the process.
However, Standard Chartered Bank uses My Voice for more than just collecting feedback. They also use the survey platform to share messages and stories with their people. The flexibility and customisation aspects of the Perceptyx survey platform make it possible for the Bank to strategically place messages throughout the survey. And because annual survey participation is over 90%, the team at Standard Chartered Bank know that nearly everyone will read it. The survey has become one of the most reliable tools for communicating important truths across the organization.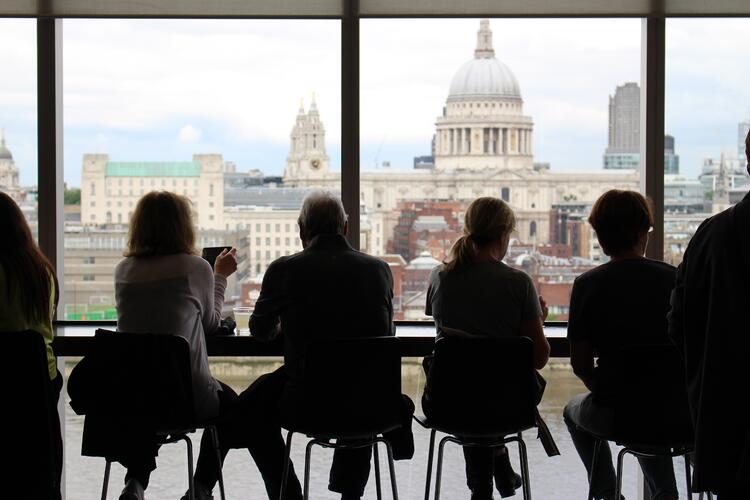 "When we send an email out to 86,000 colleagues, we know that somewhere in the region of 60% our people might read it. And when we put a message on our intranet, if we're lucky, 25% of people might read it. However, we know that if we put messages into My Voice in eight different languages, we can guarantee that 90% of our people are going to read it. So, this year we used three pages in the survey to tell a really simple culture story," said Wilson.
Wilson goes on to explain, "We've been running a culture program that the CEO owns and sponsors. The message that we put in, the kind of story that we told, was that our peoples' input has shaped what we're all doing. It was a really key thing to say, 'This is what you told us, this is what we've done, this is what we're doing now.'"
Wilson sums it up: "I think My Voice is one of the best communication devices that Standard Chartered Bank has."
---
Powerful Analytics in a Flexible Package
Standard Chartered Bank has used the powerful Perceptyx platform to not only chart new paths through times of strong growth and continuous change, but also to encourage high levels of involvement from their people along the way. Using attractive and easy-to-use survey and reporting tools, the Bank has been able to do much more than merely measure engagement in their fast-growing company. With flexibility in design and delivery, and the co-creation of a new reporting tool to meet their specific needs, the Bank has been able to establish an open and ongoing conversation with their employees. Standard Chartered Bank has worked closely with Perceptyx to ensure the right data from that ongoing conversation was always available to leaders in real time. The result has been data that is well-delivered and reporting that leaders can use to manage the organisation.
Standard Chartered Bank's partnership with Perceptyx has given them highly specific insight into their people, including specialised results focused on strengths and opportunities in areas such as team effectiveness, for example. Through the years, Perceptyx has taken the time to understand exactly what Standard Chartered Bank needs and then works with them to develop and launch listening programs that meet these needs, continuing to evolve with the Bank as they grow.
With My Voice in place, Standard Chartered Bank continues to use the voice of their employees to shape the organisation for its next 160 years of success.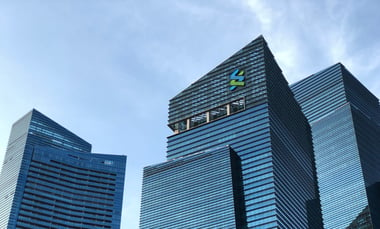 About Standard Chartered Bank
Standard Chartered Bank is a leading international banking group with a 160-year history in some of the world's most dynamic markets. Standard Chartered's purpose is to drive commerce and prosperity through their unique diversity. Their heritage and values are expressed in their brand promise, "Here for good."
Standard Chartered are present in 60 markets and service clients in a further 85, across Africa, Asia and the Middle East.
Standard Chartered PLC is listed on the London and Hong Kong Stock Exchanges as well as the Bombay and National Stock Exchanges in India.
Headquarters: London, England, UK

Industry: Banking, Financial Services

Number of Employees: 87,000