"It's time to stop focusing on engagement the noun, and focus on engage the verb."
Get a Complete Picture
The Perceptyx Framework helps organizations understand which elements of the employee experience have the greatest impact on employee engagement. Elements of the employee experience that should be evaluated may include perceptions of managers and senior leadership; teamwork and collaboration; growth and development; diversity, equity, and inclusion; access to resources and support; and clarity of direction.

Transform Data into Insights
Simple dashboards help you pull previously disconnected data sources together. Slice and dice data in virtually unlimited ways to discover trends and isolate gaps. Leverage individualized driver analysis to uncover the barriers that hinder people and organizational success.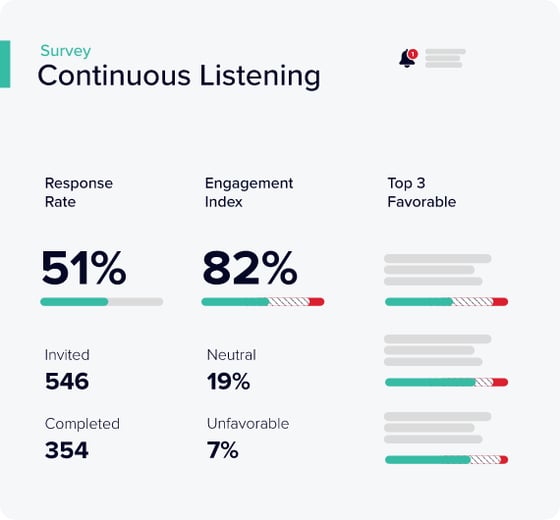 Develop an Action Plan
Once insights are identified, Perceptyx helps you take action on those elements of the employee experience that are influencing engagement. Managers and leaders receive suggestions for action that are unique to their people and their part of the business, and create an opportunity for open dialogue with employees. Quick turnaround of reports to leaders and a dashboard that puts everything the manager needs in one place allows leaders to communicate survey results quickly so that employees can see how their feedback drives change.

"We've done 18 pulse surveys to check in with employees, get feedback, and take action. Every time we've administered the pulse, we get 7,000-9,000 employees responding to those surveys. It has really helped us deal with the unique challenges of both remote and frontline workers and has been great for helping to inform our back-to-work plans."

"One thing we learned is that previously we were chasing an engagement score. We realized that was not a sustainable approach. We needed to go deeper. We realized we needed to ask a broader range of questions to analyze what's driving engagement, so we wanted to get away from a single score and look at engagement as a broader index."

"The ease with which Perceptyx was able to identify areas of opportunity in the system for engagement in particular – and then lead managers and employees to have a conversation to figure out things to work on – was really helpful."
Go above and beyond in their job and for their organization

Are more likely to stay at their company for longer periods of time

Contribute to positive business outcomes
Understanding Our Approach to Employee Engagement
Resources
Discover the Latest Employee Engagement Trends, Data & Best Practices
Perceptyx People Insights Platform
Transform listening signals into actions that matter
Getting started is easy
Advance from data to insights to focused action