OhioHealth - Helping Struggling Leaders Customer Story
Partnership Supports Long-Term Commitment To Employee Experience
As one of the nation's premier healthcare systems with roots stretching back almost 130 years, OhioHealth had been listening to employees through surveys long before the organization grew to its current size or adopted its current name.
"Anytime we can hear directly from associates, it's a win," said Qiana Williams, Chief Diversity & Inclusion Officer and Vice President of Human Resources for OhioHealth. "The biggest benefit we gain is to hear from our employees in a meaningful way, to identify what matters most, and what will most impact their experience."
The company's 13 consecutive years on Fortune's list of 100 Best Companies to Work For (from 2007-2019) show that OhioHealth has long maintained a commitment to not only listening to employees, but also to using that feedback to improve their experience. Even after many years of listening, employee feedback continues to identify new opportunities for improvement.
Today, OhioHealth has partnered with Perceptyx on its survey program for more than five years, and the organization continues to benefit from the collaboration.
Continuous innovation in the company's survey program and its partnership with Perceptyx have been crucial in the organization's response to the COVID-19 pandemic, as well as in meeting other emerging organizational challenges.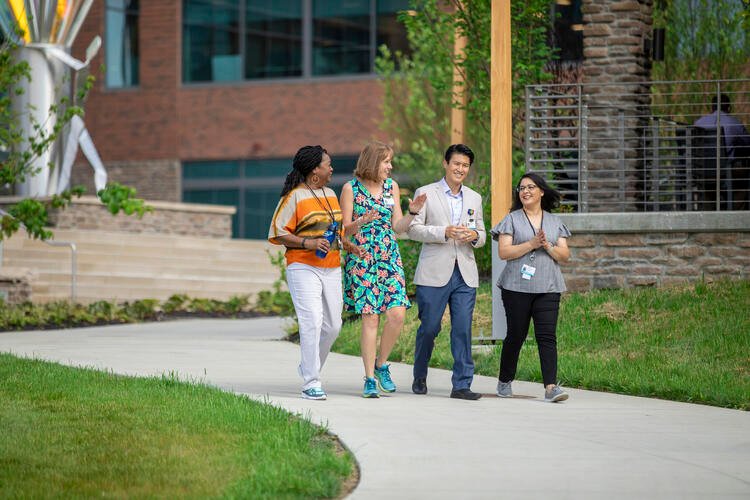 ---
Engaging Employees To Manage A Crisis
As healthcare service providers, OhioHealth's associates are on the front lines of the pandemic. "We were preparing for an uptick in cases, and expecting a flood of people in our hospitals and ERs based on CDC predictions and what was happening in other places," Williams said. "Our associates were expressing concerns, and we knew we needed to get closer to them in this moment and hear what they were thinking."
To gain a deeper understanding of employee concerns, OhioHealth deployed a shorter version of its annual survey, largely focused on the organization's response to COVID-19. "We wanted our associates to feel like we had their backs. We asked a range of questions—some developed by Perceptyx, and some by us (with a slight spin from Perceptyx), to make sure we were getting at the root of what was going on in our organization."
The company used what they had learned from the survey to make several real-time adjustments. Prior to surveying, OhioHealth had already established a centralized command center responsible for overseeing and managing aspects of the employee experience and internal operations. Williams plugged in the findings from the COVID-19 surveys to the command center, leading to enhanced communication around safety equipment and ensuring that employees are appropriately resourced to handle responding to COVID-19 and any future crises. "Our biggest win coming out of this mini-survey was fast action planning," said Williams. "Usually the action planning process takes a couple of months with our people deciding what they want to work on, but the shortened survey allowed us to immediately lean in on system-level action that we didn't have to think about for months on end, and take action on things right away." To date, the OhioHealth system has successfully managed the crisis for both its patients and employees.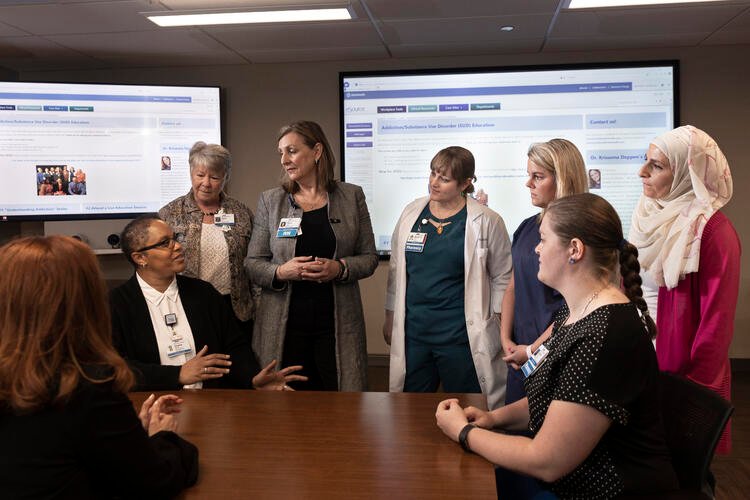 ---
Building On A Pattern Of Success
According to Williams, the partnership with Perceptyx has enabled OhioHealth to do several important things. "A couple of years ago, we were seeing engagement scores slide and we didn't understand why," she said. "We did deeper analytics into what was going on and saw we had a number of leaders whose teams' scores were dragging down the rest of the organization. When someone isn't meeting expectations in those three quadrants, we have a conversation and put them on a glide path to getting better. In respect to the culture quadrant, which is mainly expressed through our engagement metrics, we didn't have that same level of lean-in. So we had a conversation about how to elevate that culture quadrant to the same level as the others. Our focus was: How do we help leaders understand we're going to have accountability for engagement just as we do for finance, quality, and service? How do we help everyone understand that culture is the canary in the coal mine? If someone isn't doing well from a culture standpoint, we'll see a correlation in other scores."
HR brainstormed and reached out to the team at Perceptyx to ask for their help in creating a "boot camp" of sorts to address the engagement issue. The company implemented the EDGE (Engagement Drivers Guiding Experience) program to drive the culture they wanted, and conducted an all-day session around diving deep into the data to help struggling leaders understand the best practices they needed to be using. All leaders whose teams' engagement scores had been below average for two consecutive years were included. Perceptyx helped design the training and helped lead it in the first year. Consultants from Perceptyx were on-site and did a presentation about the analytics, followed by OhioHealth HR-led training.
"After that first year, participants' team scores got better and the leaders' individual scores went up as well," said Williams. "We did the EDGE training again this year and, when we reviewed the scores, EDGE participants once again did better, and the original cohort's scores were still well above average. We took that as a proof point that it wasn't a fluke or a flash in the pan. Once we spent some additional time equipping leaders with the right skills, it paid off. Working with Perceptyx allowed us to identify and develop a tool for leaders that made a big difference."
---
A Focus On Diversity And Inclusion (D&I)
About two years ago, OhioHealth made a decision to focus on inclusion as a value and looked to the survey data for a starting point. "Our data for our African American associates was some of the lowest from an engagement standpoint," said Williams. "They scored particularly low on trust."
In response, OhioHealth developed a trust index in partnership with Perceptyx. Williams said, "We know trust is one of the pillars of D&I, and we use the index as a gauge to measure trust across the organization and within demographic groups to try to move the needle on D&I."
The company conducted town hall sessions to create greater visibility into its work around inclusion. "We were looking to create greater transparency and a clearer line of sight for leaders to help them understand what was happening," Williams said. "We identified opportunities they could capitalize on with women and people of color, and essentially, gave them permission to concentrate on that." The following year, engagement in the company's African American demographic went from the lowest in the organization to the second highest—without erosion of engagement in any other group. "We were particularly pleased with that," said Williams, "that other groups didn't feel like they were being left out or neglected due to this focus."
Williams said that having the trust index has pushed the organization to "not get lazy. It's a constant reminder that it's continuing work that doesn't have an end point." To that end, she said OhioHealth worked with Perceptyx to develop a resiliency index within the survey tool to monitor how well associates are dealing with stressful situations. It has been useful in dealing with COVID-19, and continues to be useful with recent discontent around racial inequities and demands for action. "Having those tools at our disposal is very important," she said. "One of the things we've done is to pull out specific metrics so our leaders can monitor D&I and resiliency on a regular basis. Without the Perceptyx tool, we wouldn't have that level of access to the D&I metrics and the trust index."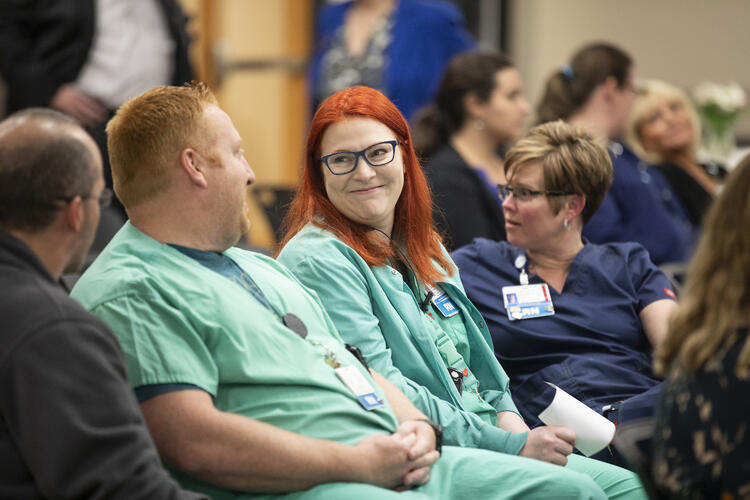 ---
Integrating Experience, Safety, and Magnet Surveys In A Single Platform
OhioHealth conducts two annual surveys for its associates—a census and an engagement pulse roughly six months after the census survey—plus a separate engagement survey for physicians. The organization finds a number of benefits from consolidating the data from these surveys into one platform. For example, the company formerly did a separate safety survey annually; this survey is now integrated with engagement surveys and is administered every other year.
In addition, nursing Magnet certification benchmarks have been integrated into the regular surveys. Nurses in the system get Magnet certified every few years; it is a rigorous process that reflects the gold standard in nursing care. OhioHealth has leveraged the survey program to support Magnet certification.
A separate engagement survey is deployed to physicians in the OhioHealth system each year, but this year, physicians were asked to participate in the COVID-19-focused census survey. Participation by physicians was higher than ever before, over and above the participation rate on the annual physician engagement survey.
According to Williams, the engagement surveys have also been useful as a "litmus test" ahead of the Fortune 100 Best Companies to Work For survey, to predict what will appear on the Fortune survey. "Using what we hear in the annual engagement survey shows associates that we are being responsive," she said. "In that regard, our engagement survey has almost served as a prep tool for the Fortune survey. It's been very helpful to have it as a lead-in; we've been included on the list for 13 consecutive years.
One of the biggest wins was the partnership between OhioHealth, Perceptyx, and Workhuman to pair patient experience data with employee experience data. The analysis of this data demonstrated a direct correlation between engaged associates and a good patient experience. "This was a real game-changer for us with regard to how we thought about the experience of our associates," Williams said.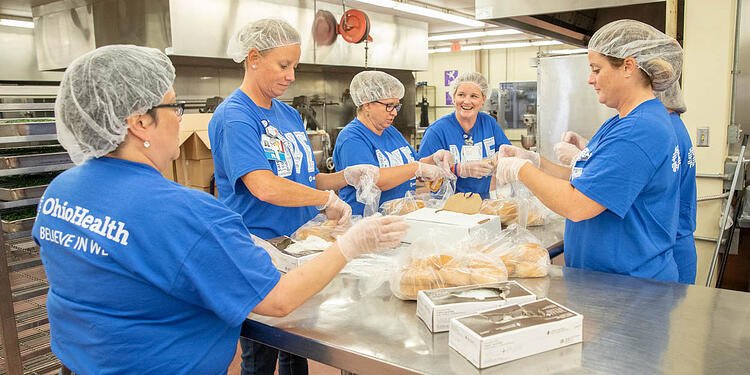 ---
Reaping Benefits From Easy-To-Use Tools
Aside from the other benefits Williams credits to the partnership with Perceptyx, at the most basic level is user appreciation of the tools Perceptyx provides. "Our associates overwhelmingly appreciate the opportunity to provide feedback, and the tool is easy to use and navigate, and the data is easy to access and use for action planning."
All people leaders have access to survey results for their teams; they can go in and look at their data, the trust index, and other D&I metrics. This puts the needed tools in leaders' hands to make improvements; as noted previously, part of the EDGE training for leader improvement focuses on teaching leaders how to access and interpret the data for their teams so they can be proactive in improving the experience for associates.
Williams notes with some pride that out of OhioHealth's 35,000 associates, the response rate on surveys tops 80%. "That's an indication that they see the benefit in sharing feedback with us," she says, "and a show of trust that it will make a difference."
While OhioHealth has a long history of asking for employee feedback and making continuous improvements in the employee experience, the partnership with Perceptyx has provided the organization with additional tools for responding to change and making improvements at every level. Those tools, paired with OhioHealth's long-standing commitment to listening to its associates, put the company in good stead to remain on "Best Company to Work For" lists for the foreseeable future.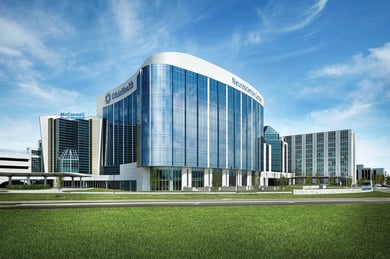 About OhioHealth
OhioHealth traces its origins back to 1891 and the creation of Columbus, Ohio's Protestant Hospital Association. In the years since, through multiple mergers and several name changes, OhioHealth has grown into a healthcare system serving Columbus and 47 Ohio counties through a network of 12 hospitals, more than 200 clinic locations, hospice, home healthcare, and other health services, staffed by 35,000 physicians and associates.
OhioHealth earned recognition from Thomson Reuters as one of the 10 best healthcare systems in the U.S. for three consecutive years (2009–2011; Thomson Reuters sold its healthcare unit in 2012 and the annual ranking was discontinued), and has been recognized by Fortune magazine as one of the "100 Best Companies to Work For" for the 13 consecutive years. OhioHealth has also been recognized by DiversityInc for diversity and inclusion among top hospitals and health systems, and by Forbes in 2020 as one of its "Best Employers for Women" and "Best Employers for Diversity."
Headquarters: Columbus, Ohio

Industry: Healthcare

Number of Employees: 35,000