Crowdsourced insights and recommendations for action.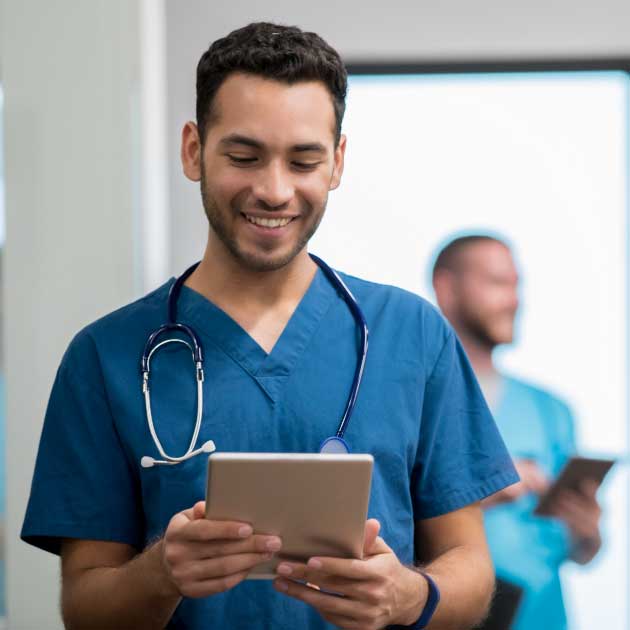 Align leaders and teams around meaningful action through real-time insight.
Dialogue is an employee voice solution that crowdsources people's thoughts and ideas on what matters most, and which actions to take to move forward quickly - building inclusion, trust and shared ownership in the path ahead.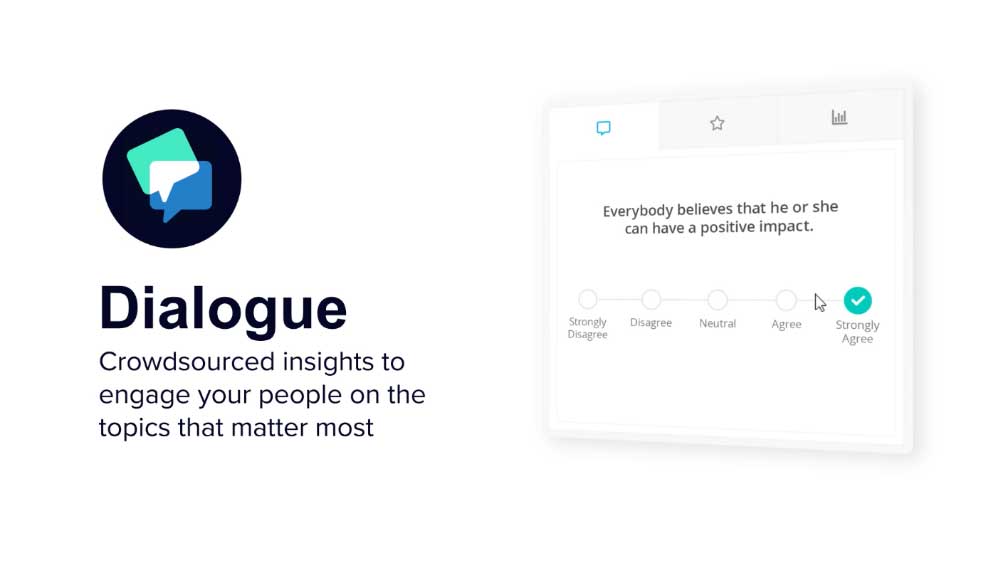 "(With Dialogue) we're asking questions that are relevant not only to our employees but to us as an employer. We're asking questions that are relevant to the action that we can actually take. It's super quick, it's super simple, and it's to the point."

"We really love Dialogue for asking open-ended questions and then crowdsourcing. When everyone went home during the pandemic, we deployed Dialogue as a triage tool for immediate transparency."

"Dialogue helps by summarizing a great deal of input rapidly. People are reading each others' comments and voting them up, and the feedback becomes extremely actionable."

"Dialogue helps you instantaneously get to the important questions and get your best minds to contribute to the possibilities. So then very quickly, just like that, you know what you're working with and how to take action."

"Dialogue gives us the magic formula of directed listening followed by directed action. Then we rinse and repeat. Again and again."
Ask the people who know
Invite employees to share authentic feedback on the topics most important to them through an open, transparent dialogue.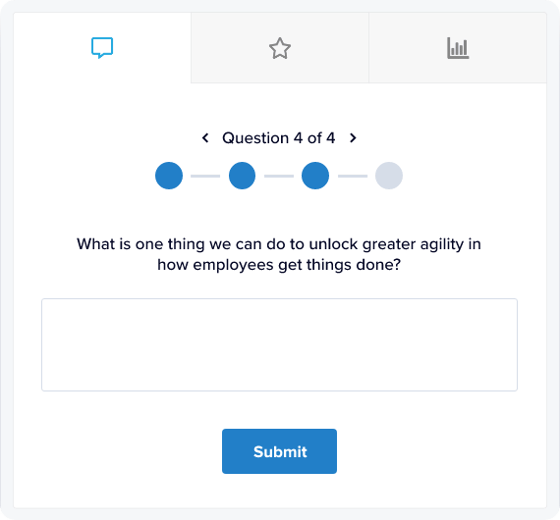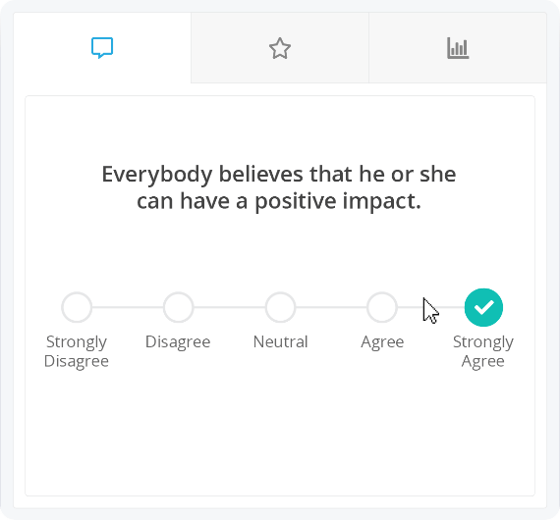 Prioritize the actions that matter
Empower everyone to co-define the best action by voting on each other's anonymous responses.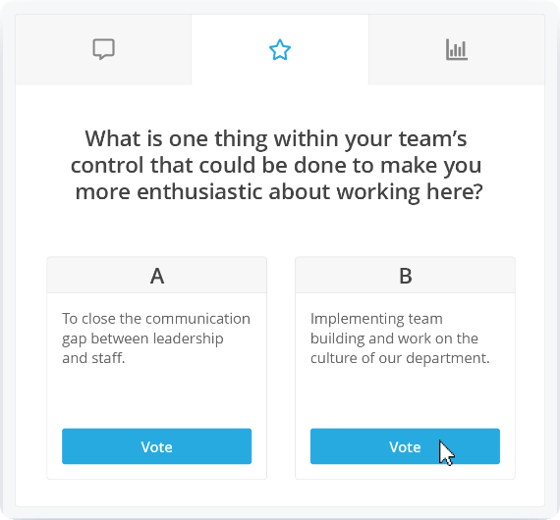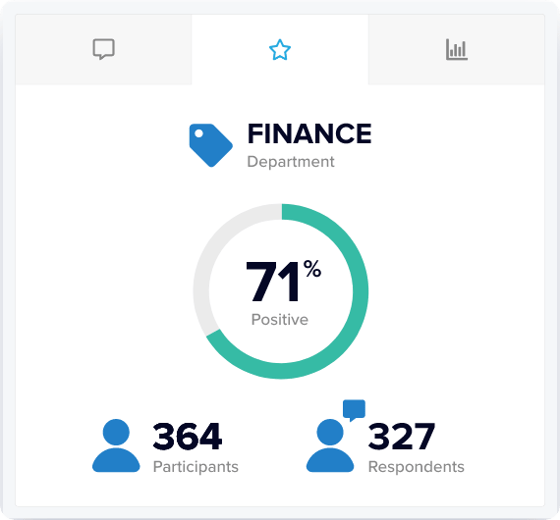 Take the best path forward
Empower leaders to synthesize the organization's collective wisdom to address key challenges in real-time and at scale.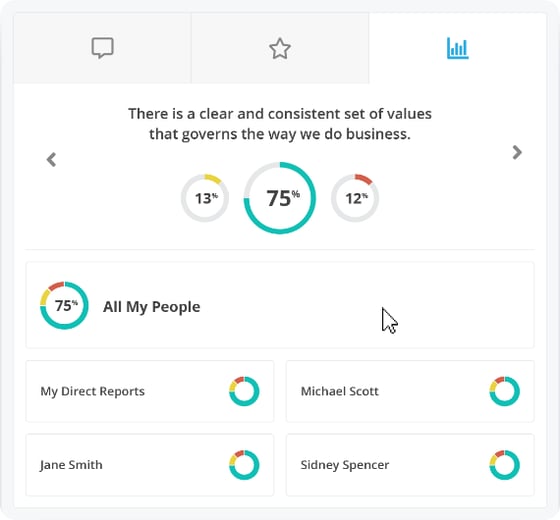 Principal Financial Group utilizes Dialogue to send multiple, organization-wide pulses to its 18,500 global employees. During the COVID-19 pandemic, the company was able to quickly understand how people were doing and provide leadership with immediate responses for fast action.
Learn more

about the Principal Financial Group customer story
UCHealth has significant improvement in employee engagement, trust in leadership, and patient experience scores. In the first year of the program alone, employee engagement went up 15% and trust in leadership increased by 18%.
Learn more

about the UCHealth customer story
The Ken Blanchard Companies rapidly identified the most pressing employee concerns related to career development through employing Dialogue, leading to achieving a 7% rate of internal promotions from within — in some cases to roles that didn't previously exist.
Learn more

about the The Ken Blanchard Companies customer story
Employee Engagement Pulses
Go deeper into survey results in real-time to address feelings around proposed priorities and action.
Diversity, Equity, Inclusion, and Belonging
Demonstrate inclusion at scale by inviting employees to co-create solutions to the most pressing challenges. Encourage authentic responses to key questions through an intuitive experience and optional integration with other listening channels.
Well-being, Retention and Growth
Activate an authentic conversation that generates the trust, alignment and action steps to co-navigate the best path ahead.
Employee Engagement Pulses
Identify what's getting in the way of your people having the best employee experience possible, and exactly what you can do to break down those barriers.
Best Practices
Blogs that discuss how to use Dialogue
Getting started is easy
Advance from data to insights to focused action
Perceptyx People Insights Platform
Transform listening signals into actions that matter