Yuma Regional Medical Center - Customer Testimonial
Transcript
Israa Khan:
So we just started partnering with Perceptyx, so we went through our first full blown sort of engagement survey last August. So that was a big move for us, especially because it was in the middle of the Delta surge of COVID. And so we decided to survey anyway. We actually thought it was the right thing to do, to survey. And I would say that the outcome so far I would say is because the platform is so easy to look at and to action plan on, we actually set a goal of, look, if leaders have reports, if you have data, we are looking for at least 75% of those leaders to have an action plan in the system. We surpassed that, we're at 85%. So that is just one particular outcome that we're proud of, because it's like you don't have to push as hard because the data's right there and you get action on it.
I think the most significant piece of the Perceptyx technology and platform is how simple it is, and at the same time how robust it is. It just makes the right thing easy to do. Historically in our organization, when we get data it's like, oh my God, what do we do with all of this data? And what's really helpful is actionable insights. The action planning tool is so simplified, where our leaders are actually taken aback by how simple it is. Like is this all that it is, right? The one, two three platform, choose one thing, do two things about it, talk about it three times and make that commitment, and it just releases so much daunting pressure on our organization's leaders. Just do the right thing and Perceptyx makes it easy to do.
The first word that comes to mind is fun. The Perceptyx team, ranging all the way from the very beginning when we were in the contracting process all the way up until the close of survey, I cannot describe to you just how dedicated and client centric you all are, and looking forward to the project meetings and having fun. Project manager asking, "How was your weekend?" And them making it a personalized experience, as opposed to it being a project, project, timeline, milestones, what are you doing, all this kind of thing. So it's fun, it's easygoing. Like, "Yep, we can do that. We're here to help you." And it really shines. It really, really shows in almost every single interaction.
Diligent and trustworthy. I don't have to worry. I have every confidence that the methodology, the approaches that Perceptyx recommends are for the good of the organization. I am wholeheartedly assured that they're doing things with the best interest in mind for their client. I honestly feel that, so that brings about a lot of trust.
I think the future of work for us is to get to a place organizationally beyond the pandemic. As a healthcare organization, I hear a lot of folks saying we need to get back to how things were pre-COVID, and that's not realistic, nor should it be something we focus on. And it really is, where will we go to restore ourselves as an organization coming out of a brutal experience for people that deliver care to patients? And I think keeping that in mind as who do we want to be in the future, which will inform our work. And I think that developing a robust engagement philosophy is going to help us get there, and I think that Perceptyx can help us align our listening strategy with our engagement strategy.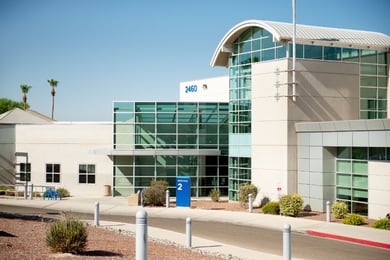 About Yuma Regional Medical Center
The mission of YRMC is to improve the health and well-being of individuals, families and the communities it serves through excellence, innovation and prudent use of resources. A 406-bed, not-for-profit hospital, YRMC's employees, medical providers and volunteers work closely together to create a welcoming, caring, and compassionate environment for patients and their families.
Headquarters: Yuma, Arizona
Industry: Healthcare
Number of Employees: 2,000
More Customer Testimonials