Select Medical Customer Testimonial
Transcript
Brent Proulx:
I'm the VP of HR over our outpatient division. We have just under 12,000 employees in that division, and we focus on outpatient, physical and occupational therapy, as well as some specialties like cancer rehabilitation, speech language therapy, things like that. The first time we sent results out, I cannot tell you about the excitement, the number of calls that my team and I got, when results were released, because people were like, "Oh, my gosh. This is so eye-opening. This is so amazing to see where people are positive, where they're neutral, where they're negative." And I think that lens of awareness that Perceptyx drives, it's just really powerful for leaders who care about change, who care about changing things in the right way.
I think there's a lot of fatigue, a lot of stress, a lot of burnout. That's been a key focus for the last two years for me, specifically. And as we work with individuals, it's really become apparent that they're craving something better for themselves, and I think leaders, organizations have to be able to accommodate that. So, coaching leaders on how to be better stewards of their employee wellbeing, coaching leaders on how to maybe handle those tough conversations with individuals when they are not at their best, struggling.
The other one is psychological safety. That's been probably the biggest eye opener for me is, being an IO psychologist, I knew all about the concepts, but I've never been able to really go in and apply them every single day to my work. And I think the realization of employers and employees is we need this now more than ever. The user experience for Perceptyx has been, in my mind, the biggest positive with the technology, for sure. You have a team of dedicated service professionals who take service very seriously. That was a big selling point for us, versus getting an automated system or not having a system or anything to turn to at all.
So, when we had our results put out last year, there was a lot of people feeling overwhelmed. What do I do with all this? And having leaders think about, all right, of the behaviors that are associated with these surveys, okay? What is very low-effort? Communication, right? Communication improvement is really simple, really low-effort, but the impact it can have is substantial. It's really up there with everything we might need or want.
And I think after a year of action and then seeing it not be as strong as we wanted, that's powerful, because then we can go back to the leaders and say, "All right, we did a lot, but you have to now admit it wasn't enough. So, how can we up that game and do a little bit more?" Perceptyx is ... You call it a listening tool. It's almost greater awareness of what do we need to do to keep people and help them thrive?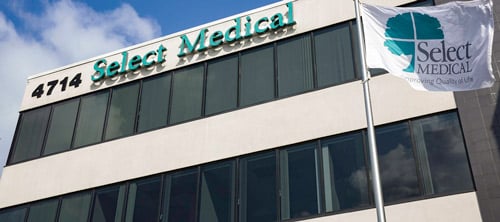 About Select Medical
Select Medical is one of the largest operators of critical illness recovery hospitals, rehabilitation hospitals, outpatient rehabilitation centers and occupational health centers in the United States. Recognized by Forbes as one of America's Best-In-State Employers in Maryland, Missouri and Pennsylvania for 2021, Select Medicals cares for more than 82,000 patients every day across the care continuum.
Headquarters: Mechanicsburg, Pennsylvania
Industry: Healthcare
Number of Employees: 46,000+
More Customer Testimonials