Organon - Customer Testimonial
Transcript
Matthew Grossman, Ph.D.:
What you have here is you've got a system where we can really focus on those insights that matter. And we can really limit it down, so that our business partners, and then our line managers can see the very specific things that they need to focus on rather than going crazy and in-depth, and the weeds are getting stuck or getting that analysis paralysis that we talk about a lot. And so I think what was helpful about our first survey, and we worked with you guys to help brand in on our communications team and we branded our first big survey as our Founder Experience Survey. And what was great about that is it really got the participation up very high.
So we saw 87%, which was really unheard of, and everyone was really excited. But I think what we saw, there's just a big need generally for well-being. And more specifically, what we found was that the affective relationships at our company are just really, really strong. So people have strong ties to their manager. They feel like their manager cares about their well-being and they have the resources that they need and the support they need to give it to them. But at the same time, they're still struggling. And I think some of that has to do with that hybridization in the workload. Our Perceptyx team is great, actually. We have so many different things going on at once.
And Michelle, our project manager is just really great at keeping everything on track and going like, "Hey, we need this in three days. Are you ready?" And helping us think ahead and project plan and that sort of stuff. And to that extent, I think Perceptyx has really stood out to me as compared to some other vendors that we worked with on different projects. Generally, what I appreciate about the team at Perceptyx is they approach everything with an, "Oh, wow. That's interesting. What about this?" mentality. Rather than just going in, trying to get the job done, do the off-the-shelf product, and then push us on to the next client, they really are curious in our results and our data, why we're doing what we're doing, how we can do it better, how we compare to benchmarks.
And generally, I think that's what really makes Perceptyx a vendor that we want to continue to partner with. So in the past, at our previous organization, moving back a few years, we used to do an every other year, big voice survey. And I think that there was some merit to that, but the data felt old and stale pretty quickly. So we're moving more toward that continuous listening approach along with the industry. So in addition to doing our big Founder Experience Survey, we're doing our next one in September, we're starting this summer to launch what we're calling our Always On Listening Program. So the idea being that we can look all the time at what people are seeing, and then take it deeper, what we're calling an EKG. So we have our pulse surveys and our EKG later on where we get more in-depth with it.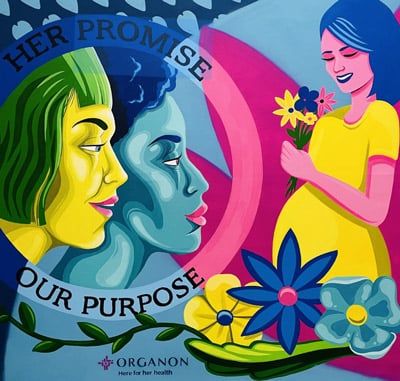 About Organon
Organon is a global healthcare company focused on improving the health of women throughout their lives. Formed through a spinoff from Merck (known as MSD outside the U.S. and Canada), Organon has a portfolio of more than 60 medicines and products across a range of therapeutic areas, including reproductive health, heart disease, dermatology, allergies and asthma.
Headquarters: Jersey City, NJ
Industry: Pharmaceuticals
Number of Employees: 9,300
More Customer Testimonials