Kellogg's - Customer Testimonial
Transcript
Mike Eaton:
My name's Mike Eaton, and I'm with the Kellogg Company. I've been with Kellogg's for 10 years. In my current role, I lead our talent and performance management processes, of which we feel employee engagement is a gigantic part of both.

The way that we've generally run a full engagement survey every other year, and in between those surveys, we have, it's essentially a shorter engagement survey, a shorter version of our full survey that's open to everyone. We call it a pulse survey, but it might not be a traditional pulse. So, we're shifting to do our surveys more often. We've actually just recently started using on-demand surveys also to poke at some of the smaller things that come up, the more targeted pieces, and over the past couple of years, we've begun using the Perceptyx exit surveys.

In the future, I see us moving to... We talk a lot about, I mean, how can we make it so it's even more of a continuous listening strategy? You're always trying to balance, you deal with survey fatigue, and you don't want to ask people things you're not doing things about, but at the same time, it's tough when the world's changing so fast, to only have a big survey, the big ka-bang just once a year.

The first thing is how easy it is to use the Perceptyx dashboards, to be able to dive into results. I remember that as we launched our first global engagement survey as a company, we had tons and tons of focus on how we were going to train managers and business partners to be able to look at the results, and found out that we probably overthought it a little bit, because it was pretty intuitive, as they got into do it, so that was really nice. And then the second piece that we like a lot, that I personally like a lot about Perceptyx, is the ability to drill down to team-level results very, very easily, and then for teams to be able to work on those results at the same time.

In the beginning, it was super prescriptive. I mean we said, "Hey, every manager that received results, you must put an action plan into the Perceptyx system, and we will track that," and we felt like we were mainly tracking compliance when we did that, not necessarily looking at outcomes. Since then, we've moved and we've established what we call a people goal, that all managers have, and with that, Perceptyx scores are one of the inputs that we look at for their people goal, and then they can modify their results for them, and how it will best drive actions on their team, and the results that they're looking for.

I've worked with several different people at Perceptyx in the five years that we've been working with them, and I've been super satisfied with all of them. I think that I likely work most often with our Perceptyx project manager, who just keeps everything humming along as we need it, and I think that the Perceptyx team, the project managers, most specifically, they're super responsive to our needs, and even more than that, they can help us anticipate things that might be problems before they are. I feel like they'll do what it takes to make me personally look successful as we go through our engagement surveys at Kellogg's, but then everyone else on the HR team specifically.

I'm going to use two words, I'd say simple and agile. It goes back to the simplicity that I said, that Perceptyx is able to take just huge amounts of information that's super hard to understand. I can't imagine just seeing it all in a spreadsheet or something, but they're able to take lots and lots of information, and present it in a simple way that's actionable, that you can do something, which I appreciate a lot. It's super important to me, and the agility piece comes into it because it does feel like Perceptyx is getting ahead of the issues that we all know we're going to have, and like, "Hey, this is going to be a problem here, the solutions that we have in the hopper," to go ahead and address those before it's a big issue, and we're scrambling to make up for it.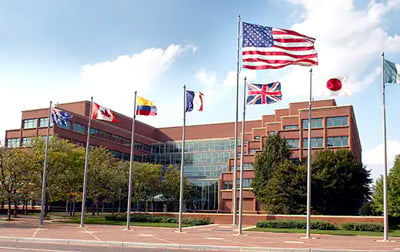 About Kellogg's
Driven by the legacy of its innovative founder, W.K. Kellogg, the Kellogg Company is the world's leading producer of cereal and a leader in snacks production. Every day, Kellogg's well-loved brands, delight families in more than 180 countries. With billions in annual sales, its brands include Cheez-It®, Coco Pops®, Corn Flakes®, Eggo®, Frosted Flakes®, Kellogg's®, Mini-Wheats®, Pop-Tarts®, Pringles®, Rice Krispies®, Special K®, and many more.
Headquarters: Battle Creek, Michigan

Industry: Manufacturing
Number of Employees: 34,000
More Customer Testimonials