Huntington Bank - Customer Testimonial
Transcript
Matthew Hall:
My current role as the Director of Culture at Huntington, I've been in my role for about six years, spent my entire career with Huntington. I don't know that I ever knew that I would be in HR. I was on the sales side of banking for many years and then ended up running learning and development for a while, and then that evolved into the culture work over the last five years.
We consider our partners from Perceptyx part of our Huntington family and they know us very well, we know them very well, and they know our organization, which is really important to us because it helps us leverage their expertise in then influencing the things that we do and the outputs of the survey. Listening has been so important to us for many years, and I think it's reinforced the importance of having multiple touchpoints.
Gone are the days of just doing an annual survey. You need to have all of those touchpoints, everything from onboarding to offboarding, and then we've started to do pulse more often now as part of our regular platform of listening. And I think what it's allowed us to do is really strategically dig into some things that at certain periods of time. It really helped us throughout the pandemic as we started to think about what we were going to look like and what our workforce was going to look like coming out of the pandemic and what people's needs and wants were. And so I think our colleagues now expect us to ask and get feedback. And then it's what you do with the feedback is what matters then.
I think these needs were always there, but maybe we weren't leaning into some of them. And one of the ones that really, really sticks out for me is the importance of mental, emotional wellbeing for our colleagues. I think we've learned and heard clearly, and then the dynamics and the impacts of the pandemic just put a bigger spotlight on that. And I think what it did, what allowed us to make it comfortable for us to talk about those things, and I think that's going to continue to be really, really important for us and for managing populations of colleagues moving forward.
What colleagues expect of an organization has changed, and I think it's going to be really important for us continuing to listen, probably even more so than we have in the past, and really helping and adjusting and adapting to new ways of working because we know we're not going to go back to the ways that we worked before.
Flexibility, understanding. This particular topic to me was kind of like a taboo topic that a manager, they were afraid to talk about it because they may say something they shouldn't say. And I think what we've done is reinforce that this is just a part of our overall wellbeing. When you think about emotional, mental, physical, all of those pieces of wellness and I think it's now a must-have and conversations that need to happen because that really helps us understand the whole individual.
So we obviously have a branch network, a physical branch network in banking, and there was a constant theme in the survey a couple years ago about our colleagues in the branches that were doing call nights, so in the evening, after their normal work hours. And there was a thread that we kept picking up on around how colleagues weren't able to spend time at things like their children's sports games or at outside activities in the evening because they were doing call nights on certain nights of the week. And we saw that and it became clear that we needed to make a change. And so within several weeks of the data coming out, we made the decision to stop doing that because it was impacting them spending time in places that they needed to be.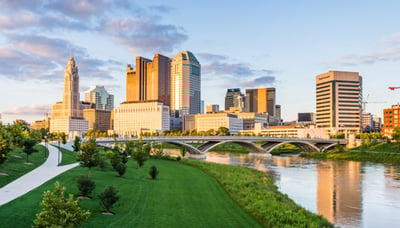 About Huntington National Bank
Huntington Bancshares Incorporated is a $179 billion asset regional bank holding company. Founded in 1866, The Huntington National Bank and its affiliates provide consumers, small and middle-market businesses, corporations, municipalities, and other organizations with a comprehensive suite of banking, payments, wealth management, and risk management products and services. Huntington operates more than 1,000 branches in 11 states.
Headquarters: Columbus, Ohio
Industry: Financial Services
Number of Employees: 14,000+
More Customer Testimonials