Customer Testimonial
Eaton Customer Testimonial
Transcript
Melissa St. Clair:
My name is Melissa St. Clair. I work for Eaton Corporation. I am the manager of organizational effectiveness. And so, part of my role is owning our employee listening strategy, defining what that will look like, how we'll measure it, et cetera, et cetera. So, we can integrate the Perceptyx tool with a lot of our internal technologies, which makes the user experience a lot more simplistic. So, for example, on our intranet site, we host a link to the Perceptyx dashboard for our managers, and it's single sign-on. So, it just makes access really easy and puts a lot of data and insights at our manager's fingertips. We're a really big company. We have about 100,000, worldwide. So, that can be a challenge to get to everyone. But what we try to do is set some pretty clear expectations around best practice, I think, with employee listening.

So, the biggest thing that comes to mind is we ask all of our managers to, once they receive their data, have a survey feedback meeting with their teams, and that would consist of really talking about data, and talking about the insights gleaned from the data, and making sure that employees know their voices are heard. And then, secondarily, involving employees in the action planning process of whatever it is they want to focus on to improve their employee experience. So, that's one of the key things I think we set as an expectation of our managers. We also slice and dice the data. So, we pull a lot of different insights from our demographics. One is, at Eaton, we really strive to make work meaningful, engaging, and exciting for our employees. So, really using the Perceptyx platform via employee survey helps us measure our progress to that and how well we're doing and check-in.

The other is we strive to be a model of inclusion in our industry. So, same thing. We ask inclusion index questions on our survey, and we use attributed data, which helps us look at data across different demographics. So, all of those things really support what are two really key aspirations for Eaton. One of the things that really resonated with me was Sarah doing our executive presentation, and really pulling that together by not just bringing data, but bringing how the data is relevant to what's important at Eaton. So, Sarah had some one-on-one conversations with some of our senior HR leaders to really understand what's driving us, what does our strategy look like, and then she was able to bring insights to show where we may have had progress on that strategy. She also was able to pull insights from some of our life cycle surveys in partnership with insights from the employee survey, and really look at themes and trends that we could respond to.

So, that was really helpful for us, as an organization, and it actually became insights we integrated into our talent strategy for this year. So, we're really getting some good actions in place and even seeing some traction already. So, I would say insightful is probably the one word that comes to mind, and by that, I mean the scope of what is available to us by using the different products. I think another key element to us has been the benchmarking.
If I think back to those two aspirations I mentioned, to be a model of inclusion in our industry, and to make work, engaging, meaningful, and exciting for our employees, we are able to measure that using the database that Perceptyx offers, and some of the benchmarking, and we even have an industry benchmark that we're able to compare to. So, all those things help us really just take the employee voice and find some actionable feedback. Well, one of the things we're actually turning on in a couple weeks is the on-demand platform. We've only dabbled in the past. And so, this time we're turning it on to enable us to do some quicker, more agile surveying via some pulses, and we're being clear with our business around why we would do a pulse so that we don't reach that inaction problem that some see when we survey too much.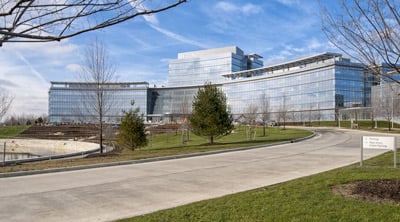 About Eaton
Eaton (NYSE: ETN) is an intelligent power management company dedicated to improving the quality of life and protecting the environment for people everywhere. Doing business in more than 175 countries, Eaton's energy-efficient products and services help its customers effectively manage electrical, hydraulic and mechanical power more reliably, efficiently, safely and sustainably.
Headquarters: Dublin, Ireland & Beachwood, Ohio
Industry: Manufacturing
Number of Employees: 85,000
More Customer Testimonials