A Communications Giant Dials Up Its Ability To Listen
The company of several thousand global employees went from doing outstanding to out-of-this-world when they went public in 2013. With a stock price that had recently climbed from $30 to over $100 a share in just 2 years their tremendous growth and change portrayed a company doing a lot of things right, but it also highlighted the risk of being caught off guard by the potential for changing trends in the employee experience. In other words, as a leader in the Unified Communications-as-a-Service (UCaaS) space, a full understanding of the all-critical employee lifecycle continued to be critical to ensure a high-functioning, innovative organization in the future.
Upper management knew that as a successful, fast moving company, RingCentral needed hard data and predictive analytics to anticipate if employee sentiment changes were occurring. For example, would attrition rise if stock prices dropped? If employees were fully engaged, did company value matter?
RingCentral concluded they needed a customizable and flexible people analytics platform to gain not just information on the company but the ability to see the company --- visible representations created by data that would show employee trends. From there they could triangulate via different data points as they determine what is working and where focused efforts might be needed. Such data-driven insight would enable RingCentral to be reactive as well as predictive and bring about positive change.
Mirco Gros, Associate Vice President of Talent Management at RingCentral, had partnered with Perceptyx before and found the team to be nimble, adaptable, and highly enthusiastic, as well as innovators in developing actionable insights and recommendations that are easy to implement.
"The thing I really liked about Perceptyx was the ability to customize and make the gathered data really simple for our leadership to use—the interface, the UX, the ability to have the survey translated and interpreted—were absolutely critical in our previous work together. With innovations like their toolbox, managers can literally pull down the findings and begin to implement. They make it that easy. Previous surveys resulted in a binder of numbers and notes that sat and gathered dust."


Together, Perceptyx and the RingCentral HR team introduced the company to the RingTones Employee Listening program starting in 2017, that now consists of:
an onboarding new hire survey within the first two weeks of the employee start date and again 60 days later

a twice-a-year pulse survey to measure employee engagement

a growth survey for employees who have gone through learning experiences

exit surveys and attrition analysis to determine how their profiles might be dissimilar from their organizational role—all things that would influence and predict attrition
"Everything we did through the implementation of RingTones," Gros adds, "was for gauging the health of the business from the people side by democratizing the data--- putting data and insights into the hands of every leader across the globe so they can manage their local departments. We believe it is much more powerful and actions will be much more relevant and faster if 500+ leaders take local action than waiting for HQ to take one action for the entire company."
The RingTones program was implemented in 2017, and by 2019, as data was gathered and analyzed, it was clear that insights gained were creating a more sound RingCentral. Employee Experience Program Manager, Tan Matosian, offered, "We wanted to be able to tell a story to leadership about emerging themes across the entire company, things they should be on the look-out for and paying attention to - so that they can focus their action planning efforts on the most impactful opportunities for improvement."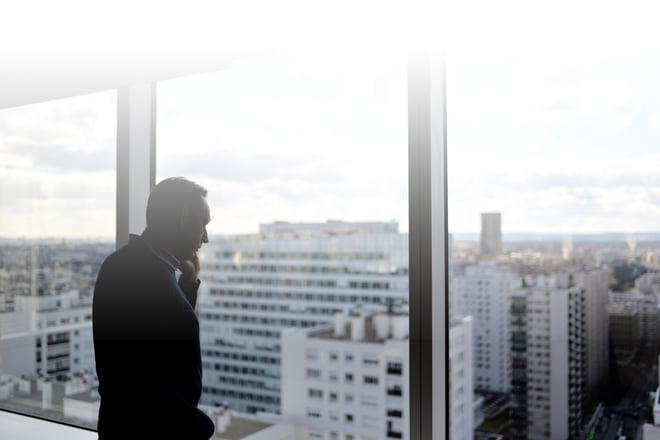 Innovations In Listening & Engagement Measurement
Perceptyx partnered with RingCentral to innovate a cross-functional collaboration heat-map matrix, and a comparative analysis of current engagement data with onboarding and exit survey data to uncover insights that, when implemented at the beginning of an employee's tenure, will help set them up for success.
"We can now gain deeper insight into the way different departments interact, and identify areas that impact how how our business units collaborate," said Matosian. "We also use lifecycle data to fine-tune and and strengthen the employee onboarding experience, which has been proven to be a key driver of long-term engagement and retention."
The cross-functional heat-map matrix allowed for visual insights into how each of the business units rates the other on quality of work and responsiveness, along with open-ended, bi-directional supporting comments. RingCentral employees were asked to identify up to three business units they work with on a regular basis and then provide feedback on their experience with those organizations. With color coding, the matrix showed where cross functional intersections are positive and where there may be some friction points. The qualitative feedback collected from the open-ended comments gives leaders additional visibility into possible root causes for low scores, so appropriate action can be taken to improve. Trend data now indicates where improvement between groups are happening.
---
The Critical Opportunity at Onboarding
Analytics showed that employees who display high engagement and greater sense of belonging were affected by three drivers at onboarding: feedback from managers that help the new employees improve their performance (Coaching), feeling like they are a part of a team (Collaboration), and being in a job that is aligned with their skills and abilities (Contribution). In addition, onboarding new hire surveys revealed that the employees who were most engaged well into their tenure were those who had the greatest sense of trust; a connection fostered in the relationship between manager and employee and displayed in an internal index.
Data also revealed that new employees who had gained an understanding of RingCentral product and service offerings as part of their onboarding had significantly higher engagement due to an increased feeling of connection to the company. Therefore, RingCentral was able to make a notable company-wide adjustment: all new hires, regardless of their role or department, receive information about RingCentral product and service offerings as part of their onboarding.


The Rise of Reputation
One year prior to RingTones, and before doing onboarding surveys, the #1 reason why people accepted and offer for employment from RingCentral was opportunities for career and personal growth. However today, data from the new hire surveys show that the previously $4 reasons why people accept offers from RingCentral: reputation as a great place to work, has risen to be tied with #1. The take-away is clear: investments into building a favorable employee experience and investing in the RingCentral talent brand has paid off to such a high degree that RingCentral's reputation has made it beyond the company and out onto the streets. Not only is the data impacting people within RingCentral, but also the company's ability to attract talent.


The Ability To Predict Attrition
For RingCentral, predictive analytics was the ultimate tool for lowering attrition. Data gathered and analyzed from exit surveys have allowed for the creation of an attrition-risk profile, revealing hot spots in specific demographic populations. Perceptyx analyzed historical data and compared it with recent data, and found it possible to predict the number of employees that would voluntarily leave within six months and why, which offered RingCentral an array of options for addressing it.
Says, Bradley Wilson, Global Head of Research & Insights at Perceptyx, "Our predictions established a bar that we hoped would be higher than the actual attrition numbers. Lower attrition numbers would mean that RingCentral was taking the data, connecting the data points, and making positive change."
Today, not only has a clear picture of employee engagement been established, but so has a clear understanding of what actions can be taken to heighten engagement across the board. In so doing, RingCentral has increased its own engagement with thousands of employees all over the world and are a better, even more phenomenal company for it.