Josh Bersin Academy Identifies Ten Pandemic-Related Responses With Highest Business Impact
Download the 38-page research report for the ten response practices that matter most in crisis and help create and sustain business resilience.
The Josh Bersin Academy partnered with Perceptyx to conduct a survey in August 2020 of 1,349 HR leaders and professionals across the globe and all industry segments.
The research-based report analyzes 53 practices encompassing leadership, culture and communication, learning and talent strategies, pay and benefit offerings, remote work, workplace configurations, and HR skills and capabilities.
In this report you will have access to:
The ten pandemic-related responses most likely to have business impact
The impact of these practices in driving seven business outcomes including financial performance, customer satisfaction, workforce engagement and retention, and societal impact
Detailed recommendations for companies to advance to higher response stages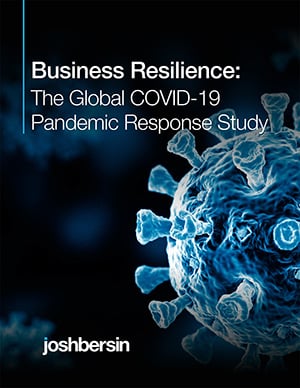 Download this free report to learn more about the unexpected findings of our joint research—and the actions you can take to benchmark your practices and prioritize plans for coming months.
For a full list of COVID-19 response resources, including more information about the no-cost COVID-19 employee surveys, visit our COVID-19 Resources page.