A PERCEPTYX GUIDE
Experience the Outcomes of a Culture of Continuous Conversation
Our world today is calling on leaders to make a more genuine connection with their employees. Many leaders are doing this by listening to their employees more often, on more topics, and in more ways than ever before. This creates a culture that people want to join, fueled by a shared sense of purpose in heading towards a meaningful North Star.
In Part 1: The Blueprint of a Continuous Conversation at Scale, we outline the components of this dialogue and how this dialogue drives the right action based on evolving human and business intelligence. Then in Part 2: A Guide for Building a Culture of Continuous Conversation, we illustrate how leaders transform their listening strategy to help both their people and business thrive.
In this final Part 3, we share how your entire organization can experience this culture. Learn the immediate and cumulative outcomes that organizations like 3M, PepsiCo, and the Kellogg Company are gaining as they create this culture.
Download Part 3 and learn how: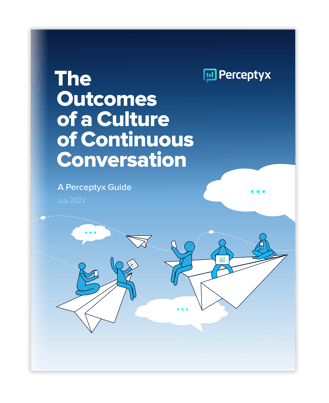 Three essential elements drive these outcomes
Data from Principal Financial Group tells a story by articulating the voice of employees closest to the work
UCHealth gains foundational agility and resilience by knowing when and where to go, pause, realign, pivot, and continue forward
A culture of continuous conversation improves the people experience and solves today's most pressing problems in many organizations.