Tailoring your employee survey to your company's unique needs and challenges allows you to see what matters most for improving the employee experience and driving desired business outcomes.
Responses to employee survey questions provide critical qualitative data
representing the opinions and perceptions of employees throughout the
organization. Without this data, HR cannot understand how employees feel about
the company or their work, or the why of employee sentiment regarding company
leadership, culture, and operational policies.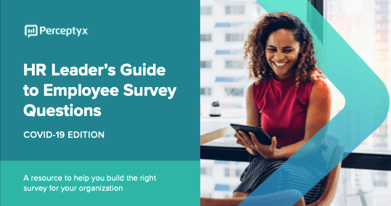 Download this free guide to discover the four key measures of employee engagement, and get access to more than five dozen employee survey sample questions to help you get started.
Inside you'll find questions covering:
Employee engagement
Organizational development and change management
Employee retention
Diversity and inclusion
COVID-19 support and engagement
And more!