EMPLOYEE SURVEY SUCCESS STORIES
The path to high performance starts with your people.
In every case, a great employee experience, fueled by timely employee feedback, is the key to charting and navigating it.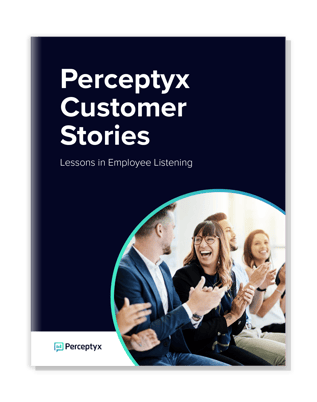 In this compilation of customer success stories from Perceptyx, you'll learn how enterprises across industries are using the power of continuous conversations to improve their employee experience and fuel business performance. In each case, these organizations have applied the Perceptyx platform to dig deep into their employee experience, extract unique insights, and develop targeted actions plans aligned with targeted business outcomes.
Some of the stories you'll discover in this collection include:
How Sonic Automotive improved its customer experience by first improving its associate experience
How Hitachi developed a transformative HR initiative that unified its sprawling global organization
How OhioHealth improved its culture by emphasizing accountability and taking action to promote diversity and inclusion
How Checkers/Rally's reduced turnover (and increased profits) by realigning the company vision to focus on the employee experience
Download the full collection of customer success stories today to understand how your peers are using employee feedback to power business success—and how your organization can do the same.