A PERCEPTYX SPECIAL REPORT
The Healthcare Employee Experience in 2022: A Data-Driven Perspective
What does research reveal about the current employee experience and how perceptions have changed for healthcare workers since 2019?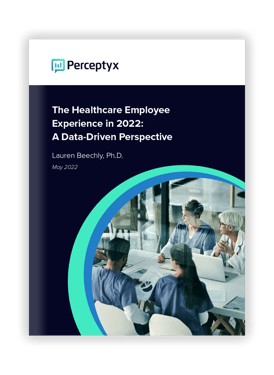 Staffing shortages, increased job demands, patient acuity, escalating violence and incivility, overtime requirements, and protocol changes are just some of the many challenges healthcare workers are facing.
In order to provide evidence-based answers and data-driven insights about how these dynamics are impacting the healthcare employee experience, Perceptyx studied more than 3.25 million healthcare workers across more than 480 systems.
Download our latest report to discover:
Why employee engagement in the healthcare industry has declined more than in other industries
The five major factors – staffing, well-being, safety, inattention to employee voices, and concerns about the future – that can impede improvements in employee engagement
Specific strategies for surmounting these engagement barriers, including tips for dealing with attrition and other staffing issues
Emerging areas of strength – such as manager effectiveness, role clarity, teamwork, and senior leadership effectiveness – that can be leveraged to improve the healthcare EX and worker optimism