A PERCEPTYX SPECIAL REPORT
The Factors Driving Employee Experience Now: Quiet Quitting Edition
A Persona-Based Approach to Understanding Your Workforce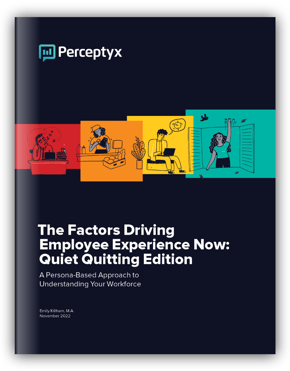 In 2021, we broke new ground with the introduction of a persona-based model for defining and measuring the key factors driving today's employee experience: Good People Management, A Healthy Workplace Climate, and a Shared Vision for the Organization's Future.
For the 2022 update to our report, we wanted to revisit those personas — The Energized, The Contented, The Disconnected, and The Neglected — to determine how their numbers have changed, while expanding our research to dive deeper into the trend that has single-handedly dominated workplace headlines in recent months: Quiet Quitting.
Download this special report to discover:
How those 4 personas, and the dynamics that make an organization's EX attractive today, are connected to the employee practices associated with Quiet Quitting;
Why Quiet Quitting should not be seen as a single behavior, but rather a collection of distinct behaviors, each with its own causes and effects;
Advice for People Leaders attempting to diagnose which Quiet Quitting behaviors might be present in their workforce today;
How a continuous listening and actioning strategy can help create a healthy balance between the needs of employees and the needs of the organization; and
Guidance for roles across the organization — executives, HR professionals, managers, and individual employees — who want to build a culture of connection and purpose.