A PERCEPTYX SPECIAL REPORT
Managing Uncertainty: How Layoff Anxiety is Changing the Employee Experience
Layoff anxiety and its impact on employee well-being continue to grow. New data reveals the larger employee experience aftershocks, as well as ideas to build resilience.
The wave of layoffs that began last year shows no signs of slowing as 2023 rolls on.
To explore the effects of these job losses on employee experience and well-being, Perceptyx initiated two comprehensive studies. Both revealed a pervasive state of anxiety among workers, with significant impacts on business performance as well as personal relationships.
Download the full report to discover: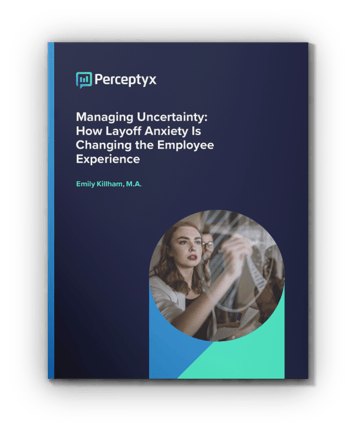 Which workplace populations were most affected by job loss jitters, and why even the rumor of a coming layoff has negative consequences for employees,
The importance of open, transparent communication from leaders to mitigate layoff anxiety and its effects,
Why employee listening is even more critical during challenging times, and
Specific strategies for leaders working to prevent and manage employee layoff anxiety.