A PERCEPTYX SPECIAL REPORT
The Management Behaviors that Make (or Break)
a Great Employee Experience
We asked 3K+ employees and managers about the specific behaviors and skills required for good leadership today. What we learned might surprise you.
While being a great manager is not easy, it is essential for creating a great employee experience.
New research from the Perceptyx People at Work team dives deep into what managers and employees need from one another to thrive in the workplace now, where they might be falling short, and why managers need new approaches to coaching and development to combat growing pressures.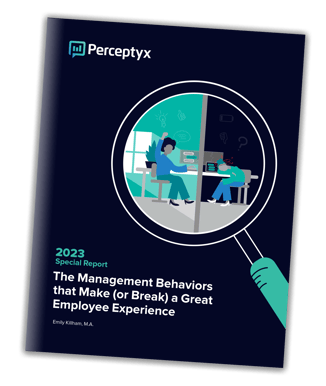 Download the full report to discover:
How many employees say they are currently working for their best (or worst) boss ever?

How are manager behaviors impacting employee health and well-being – in the office and at home?

Which behavior revealed the biggest disconnect between employees and managers, both in the level of importance and perceptions of skill?

How does great management impact larger measures like engagement, career development, belonging, and more?
How can new, AI-driven solutions drive increased manager self-awareness and behavior change to support successful business outcomes?