A PERCEPTYX SPECIAL REPORT
Loneliness as an Organizational Crisis
A Persona-Based Approach to Navigating Through the Silence
Loneliness is a term that seems at odds with our culture of open-floor plans, team-building retreats, and an endless stream of digital channels intended to foster workplace community. But new data from the Percepytx Research & Insights team tells a more complex story.
The Surgeon General's recent advisory highlighted the importance of social connection for individual and community well-being, as well as the negative consequences when connection is lacking. Understanding that loneliness contributes to negative outcomes for our physical and emotional health, we wanted to know: What role does loneliness play in the health of our workplaces?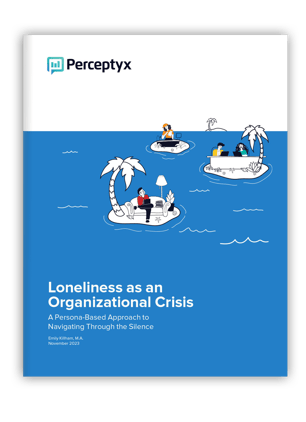 In the 2023 update to our annual series examining the employee experience, we're revisiting 4 key workplace personas — The Energized, The Contented, The Disconnected, and The Neglected — and diving deeper to reveal:
How is the rise of loneliness in our personal lives manifesting at work?

What characteristics of a healthy workplace are most effective at preventing and combating loneliness?

What about remote versus in-person environments? (Can we still feel lonely even when working in close proximity to others?)

Tips to help leaders identify at-risk employees and take action to mitigate impacts to productivity, engagement, and overall well-being.