PERCEPTYX HEALTHCARE INSIGHTS
Caring for the Caregivers: Understanding Burnout in Healthcare
Disengagement. Compassion fatigue. Exhaustion. Burnout.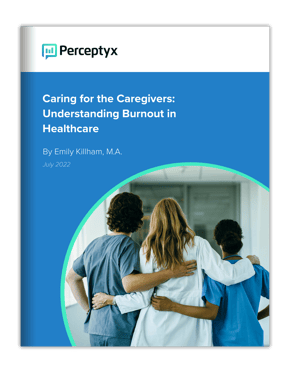 Healthcare organizations continue to struggle with engagement and well-being, leading to the inevitable burnout of highly talented employees.
Situated in the eye of the storm – buffeted by the twin winds of the COVID-19 pandemic and the Great Resignation – healthcare organizations need to understand the significant drivers of burnout and the larger impact of burnout on important business outcomes. These organizations also need to know where to focus their efforts today to reduce burnout in the future.
To provide these critical answers, Perceptyx conducted a comprehensive study of multiple datasets – representing millions of respondents across our benchmark databases and panel research studies.
In the resulting report, Caring for the Caregivers, you'll discover:
The unique factors driving burnout in the healthcare industry today
The impact of burnout on patient safety, as well as long-term talent attraction and retention
The role of optimism and personal connection in helping to alleviate burnout symptoms
Specific actions you can take today to reduce burnout in your organization