Top 12 Reasons Employee Listening Programs Fail
Listening to your employees and acting on their feedback is critical if you want to deliver a great employee experience.
However, not all employee listening programs are created equal.
Designing and implementing an effective employee listening program is a multi-step journey, and there are plenty of hazards along the way. But there are proven ways to avoid the most common missteps and ensure your program is successful.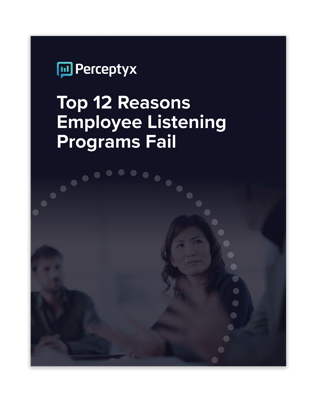 Based on our nearly 20 years of employee listening experience, implementing tens of thousands of surveys for some of the largest and most complex organizations in the world, Perceptyx has compiled a list of what NOT to do if you want to realize your goals.
Download our eBook to discover the most common reasons employee listening programs fail, and what you can do to avoid them.
Some things you'll discover include:
Why securing executive buy-in and establishing your metrics of success are critical first steps,

The importance of designing your survey questions, and your larger survey program, with the desired business outcomes in mind, and

How to engage and incentivize managers as partners in post-survey analysis, communication, and accountability.