Men Stay for Culture, Women Stay for Empowerment Report
The Gender Divide in Talent Retention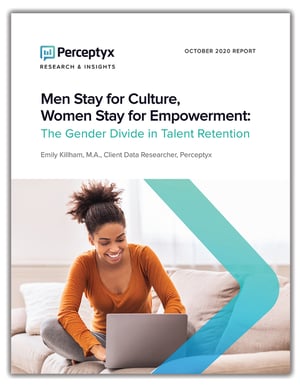 Headlines continue to spell disaster for employees in the ongoing pandemic. Women have been hit particularly hard when it comes to balancing home- and work-life, caring for children and elderly relatives, and trying to stay productive in their jobs and maintain careers. Add the renewed focus on social justice and diversity in the workplace, and CHROs are increasingly asking how to attract, support, and retain highly talented women during this time.
A new panel research study found that not only are women taking on greater responsibility as a result of COVID, but they also feel less supported than their male counterparts in terms of flexibility and understanding from their employers. The data show that women are at risk of leaving the workforce, either putting career advancement in jeopardy or risking careers entirely.
The Perceptyx People Analytics team then wondered: are the issues causing women to leave their workplaces now new? Or are these issues just coming to the fore with so much going on at one time?
Download our free report to learn more ways to support and retain top female talent during this ongoing pandemic.