Perceptyx Research Reveals a Disconnected Onboarding Experience for Pandemic Hires
Turnover is projected to rise for employees hired after March 2020
Download this insightful research report, written by Brett Wells, Ph.D. and Emily Killham, M.A., to learn how onboarding perceptions among pandemic hires compare to those hired before COVID-19 and how onboarding pitfalls could impact engagement and retention.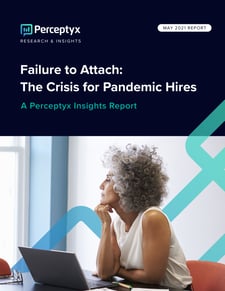 Perceptyx asked more than 1,000 working Americans about their onboarding experience and determined pandemic hires had less clarity and felt less connected to their team and the organization. The research report also highlights the ramifications the disconnected onboarding experience could have as organizations adopt a hybrid workplace model.
Our survey-driven research report covers:
An outlook for the U.S. labor market and why remote job listings are expected to slowly increase.
How onboarding during the pandemic impacted new hires' connection to their manager, teammates, the organization, and the work they do.
What people consider when looking for a new job and how those factors have changed since COVID-19.
How the disconnected onboarding experience could lead to increased turnover and disengagement among pandemic hires.