UCHealth Listens to Its People to Drive Employee Engagement
A large Colorado healthcare system, UCHealth has more than 26,000 employees across 12 hospitals, including the only level one trauma center in southern Colorado (UCHealth Memorial). It has been recognized as the "Best in Colorado" by U.S. News and World Report and ranks in the top 25% in patient satisfaction scores. As such, the UCHealth system has a large impact on its community, and it takes that role seriously with a mission to "improve lives in big ways through learning, healing, and discovery (and) in small, personal ways through human connection." That mission extends beyond patients to its staff, which UCHealth demonstrates through its focus on improving the employee experience and by actively listening and responding to the workforce through its employee listening strategy.
Giving Employees a Voice by Crowdsourcing Feedback
UCHealth wanted to improve how they engaged and listened to employees as well as transform their culture. The company knew it was not getting what it needed through a traditional approach to employee engagement. They wanted to dig deeper and capture employee feedback that was not only honest, but also timely and actionable.
UCHealth set an objective to increase employee engagement, improve trust and transparency throughout the organization, act with a sense of immediacy, and create alignment throughout the entire health system. They found the best way to achieve these desired outcomes was through Dialogue by Perceptyx, an employee voice solution that crowdsources ideas and recommendations on actions to improve the employee experience.
UCHealth was able to quickly act on its new employee voice process, shrinking its typical survey from 45 questions down to just six. As a healthcare organization that truly strives to provide the best patient experience, UCHealth didn't want completing the survey to take time away from patients, so opted to make it short and quick, but also focused on the right things.
"We chose six questions that were highly actionable and gave us a quick opportunity to engage our employees and get feedback fast," Matthew Gosney, Ed.D, vice president of organizational development and learning services at UCHealth.
As part of its ongoing employee listening program, UCHealth now surveys employees three times per year, including follow-up pulse surveys to ensure leaders are sharing results with their teams and acting on those responses. Each survey is open for two weeks and includes an open-ended question that allows employees to provide valuable, earnest feedback as well as vote on the responses of other employees. This crowdsourcing of opinions helps the hospital system determine what's most important to the majority of its employees and what actions they can take in response.
"I think an employee voice program is something all healthcare organizations, and really all employers should be looking at," said Dallis Howard-Crow, chief human resources officer at UCHealth. "We're asking questions that are relevant not only to our employees but to us as an employer. We're asking questions that are relevant to the action that we can actually take. It's super quick, it's super simple, and it's to the point."
Listening to Employees Improves Employee Engagement & Leads to a Better Patient Experience
With Dialogue, UCHealth has custom-built an employee voice program that encourages continuous conversations at scale, allowing employees to be a part of the decision-making process and making them a foundational element to the overall success of the organization versus a commodity or asset. And it all starts with the leaders. At UCHealth, leaders are not simply consumers of survey data; they are critical players in engaging with that data up and down the reporting structure and using it to drive conversation, engagement, alignment, and action.
"What drives engagement is better conversation between the leader and their staff because a better conversation means a better relationship and a better relationship means a more engaged staff and a more engaged staff means better patient outcomes," Gosney said. "It's really that simple. … (employee voice) is a very simple approach to engaging employees and talking about the things that matter to them."
Since implementing the employee voice program, UCHealth has seen a significant improvement in employee engagement, trust in leadership, and patient experience scores. In the first year of the program alone, employee engagement went up 15% and trust in leadership increased by 18%. The survey data also proves that managers who didn't participate in a review with their leaders or direct reports saw an overall decrease in their teams' engagement compared to an overall organizational engagement increase of 4%. Year over year, this trend continues as engagement scores go up for teams and managers who actively engage in discussions about the results, and go down for those who don't. As a matter of fact, it is a 19-point difference between the two sides.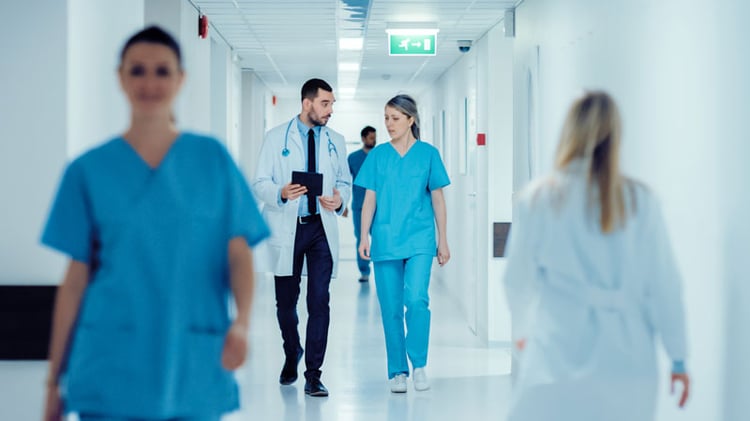 "Not only have our employee metrics improved since we've rolled out our employee voice process, but we've also seen an improvement in our patient experience metrics," said Joel Yuhas, president and CEO of UCHealth Memorial Hospital and UCHealth Southern Colorado.
UCHealth is now ranked in the top 25% in patient satisfaction scores, meaning better pain control, a more restful hospital stay, and better relationships with doctors and nurses.
Additionally, the employee voice program truly lets employees be a part of the decision-making process. For example, in one of UCHealth's pulse surveys to its nursing staff, the health system asked, "From your perspective, what is the most important quality that our new UCHealth Chief Nursing Officer should possess?" UCHealth took those responses to heart and interviewed for the position based on the feedback. As a result, the nursing staff was extremely enthusiastic about the new hire and the new CNO understood what the nursing staff expected from her.
For Gosney, it all boils down to truly listening to his employees, doing what is best for them, and improving the employee experience – in a timely manner.
"(The employee voice program) has allowed me to really target the types of interventions and the types of support that our talent needs, which is exceptional," he said. "I have the voice of the employee saying, 'Here's what I need to do my job better.' And when we hear that, we can tailor our programs to them, and the employee feels like our program isn't just pulled out of a hat, but it is a response to their bespoke needs, and that is trust building in an organization, and it circumvents the noise of trying to figure out what the employees want. I've got direct access to their voice and their needs."
Just the Facts
UCHealth sends Dialogue surveys to its 26,000+ employees 3x per year. The surveys remain open for 2 weeks and always have 6 questions with the last one being open-ended. The results are then discussed in a CEO-led session at each hospital, and trickle down to all employees through each team leader.
UCHealth leaders who engage their teams via Dialogue:
Recorded team engagement scores 19% higher than those who don't
Repeat this trend year over year
Since implementing Dialogue, UCHealth:
Increased employee engagement over 15%
Improved trust in leadership by 18+%
Ranks in the top 25% in patient satisfaction