Imagine what your organization could achieve if you could see the future.
In business, there are no crystal balls. But a cross-survey analytics strategy is the next best thing when it comes to understanding—and influencing—employee perceptions.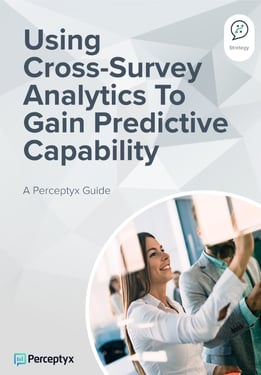 A cross-survey analytics strategy tells a complete story about the employee experience in your organization. By linking data from different points in the employee journey to outcomes, cross-survey analytics identifies the predictors of future outcomes—both positive and negative—allowing your organization to get ahead of issues before they become problems.
In this guide you'll learn:
How cross-survey analytics can predict attrition.
How to use trend tracking to see what's affecting employees in real time—and address it.
How to use cross-survey analytics to improve performance across the organization.
How a cross-survey analytics strategy can help your organization be more intentional in the actions it takes.
Download this free guide to learn more about cross-survey analytics, and how to implement a cross-survey analytics strategy that works.