A PERCEPTYX SPECIAL REPORT
The State of Employee Listening 2022
"Organizations today are listening to their employees more often, on more topics, and in more ways than ever before."
Perceptyx interviewed HR decision-makers from over 600 global organizations with 1,000 or more employees about their current listening program, how their strategy has changed as a result of the COVID-19 pandemic, and the investments they are making for future listening.
The result is the industry's first-ever comprehensive study of employee listening, addressing its evolution, how new workplace dynamics are driving changes in survey scope and frequency, and what HR leaders across industries are doing to achieve success, despite organizational barriers.
Download your copy now to discover: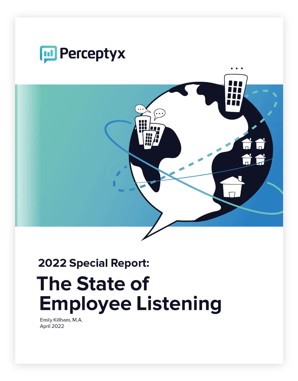 How your peers and competitors are approaching employee listening, and how you compare

How new, tech-enabled channels, such as crowdsourcing, are delivering near real-time feedback and sentiment from employees

The most common barriers to success, including executive support and the need to translate data and signals into action

A first-of-its-kind maturity model charting the evolution of an employee listening strategy from infancy to a fully mature program, and what's needed to move to the next stage.