A PERCEPTYX INSIGHTS REPORT
The Shifting Role of Compensation for Employee Retention and Attraction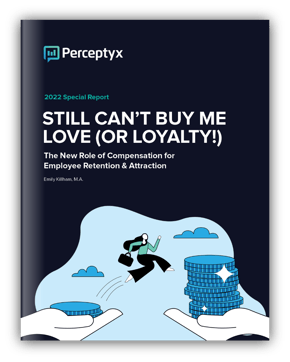 The ongoing labor shortage and the continuing work-life aftershocks of the pandemic have forced organizations to re-examine their approach to attracting, hiring, and retaining employees. Add inflation pressures to the mix and the result is a growing emphasis on the role of compensation and other financial incentives.
New research from Perceptyx — including data from more than 700 HR leaders and 2K+ U.S. employees — highlights the tactics organizations are using to combat new challenges in compensation planning, talent attraction, and retention, along with the impact those tactics are having on personal employee decisions to stay or leave their current role.
Download the full report to discover:
The macro- and micro-trends that are impacting compensation and reward strategies now,
How future career growth compares with compensation and benefits for long-term retention,
The gap between attraction and acceptance (or why the factors that attract a candidate to a new role are not the same as why they take the job),
What "leaver's remorse" can tell us about the dynamics of a great workplace, and
The mandate for HR leaders to effectively communicate their full Employee Value Proposition (EVP) — financial and non-financial rewards alike – to remain competitive.