TALENT DEVELOPMENT
Josh Bersin on Democratizing Leadership
Development Across Your Organization
Discover the Benefits of Intelligent Coaching at Scale
Our personal lives are filled with AI-powered tools that coach us on everything from what movie to watch, to how to optimize our workouts, and even how to speed our daily commute. But what about coaching in our professional lives – especially for managers?
While human coaches help managers build new skills, many organizations only offer this benefit to their most senior leaders, and even then, can only address broad management themes or challenges. A new generation of AI-powered coaching platforms gives every manager their own digital advisor and offers tips based on their unique behavior, suggesting how to better communicate, collaborate, and work with others—without taking time out of their day.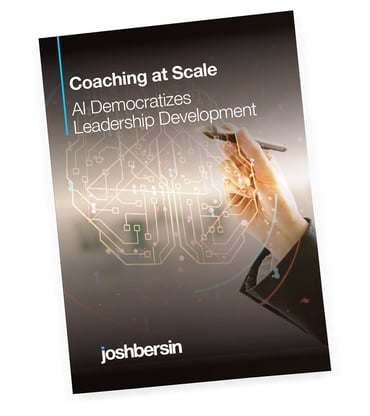 In today's work environment, AI-powered coaching is one of the best-kept secrets to transform your managers into leaders and create a culture of learning and development.
Download the guide to discover how this personalized, highly scalable approach to manager development:
Increases self-awareness, emotional intelligence, and trust
Delivers digital nudges to drive measurable behavior change
Increases employee engagement and retention