A PERCEPTYX GUIDE
The Blueprint

of a Continuous Conversation at Scale
As a leader today, you need a complete picture of how your people strategy impacts your business strategy. Above all, you want to understand how the decisions you make about employees will help your organization meet its goals and outperform competitors.
Capturing these insights starts with a Continuous Conversation at Scale. When we say "continuous conversation at scale," we're referring to a virtuous cycle of engaging your people in a recurring dialogue throughout the employee lifecycle.

Part 1 of our guide outlines the essential blueprint of how to begin this conversation, and how it results in an evolving cycle of input, dialogue, and action.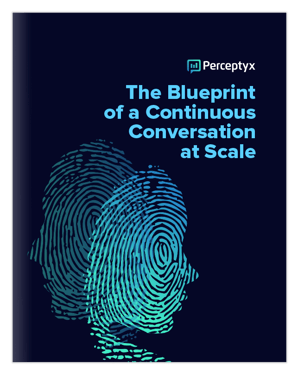 Download Part 1 to discover:
How this conversation lets leaders integrate what they hear from their people, with what they see in the business data,

Why leaders need to respond to feedback quickly, and then create meaningful action,

How objective business data puts feedback and action into context, and

How this conversation drives action based on evolving human and business intelligence.