Still "Playing it Safe" When It Comes to Creating an Effective Safety Culture?
For healthcare organizations, safety is a critical, non-negotiable component of the employee experience. But traditional approaches to safety measurement are significantly limited by the scope, timeliness, and action orientation of the data collected.
Perceptyx is reinventing healthcare's approach to Safety Culture surveys with new, more convenient and inclusive listening channels — and more actionable data — all while preserving important compliance requirements.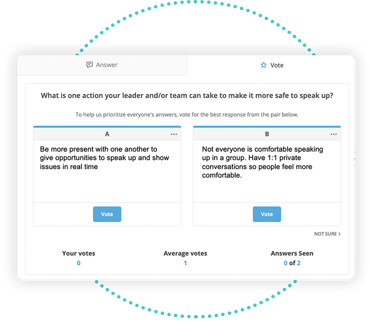 Our exclusive blend of employee listening products and services, including Dialogue, a unique crowdsourcing survey option, is innovating safety survey measurement for large healthcare organizations.
The Perceptyx Safety Culture survey empowers your employees to speak up and co-create solutions that minimize risk and patient harm, while creating a faster, more reliable, and more comprehensive picture of your organization's safety posture.
Discover the Perceptyx Difference
Inclusive of all employees, even those with little or no patient contact
Easy to participate and easy to administer, preserving more time for patient care
Includes questions on Psychological Safety – a critical dimension in today's healthcare workplace
Directly engages employee voices to crowdsource insights and drive adoption of a "speak up" culture

Aligned with accreditation requirements and validated by The Joint Commission
Complete the form to connect with a Perceptyx healthcare specialist and discover how your organization can build a culture of patient safety, mitigate risk, and maintain certification requirements -- all with one simple solution.