Continuous listening is a strategy for listening to your employees across the moments that matter throughout the employee experience.
When aligned to business objectives, the right questions at the right times can help you collect data critical to business performance.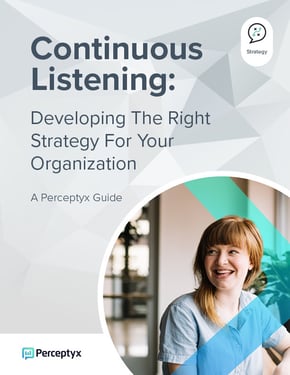 A continuous listening strategy can help you keep your finger on the pulse of your business—but only if it's designed to capture the right information. So, what's the "best" way to listen to your employees? This free guide examines how to craft your own unique strategy for continuous listening, including:
What to measure—and why.
Which tools to use for measuring.
How often to measure, and more!
Download this free guide today to learn how employee surveys and the right listening program can be the engine of your HR analytics strategy.