A 3-PART GUIDE
Continuous Conversations at Scale
Move Beyond Employee Listening to Connect Insights to Business Outcomes
As an HR leader, you need a complete picture of how your people strategy impacts your business strategy. Above all, you want to understand how your decisions about employees, and the experience you deliver for them, will help your organization meet its goals and outperform competitors.
Capturing these insights starts with a Continuous Conversation at Scale. When we say "continuous conversation at scale," we're referring to a virtuous cycle of engaging your people in a recurring dialogue throughout the employee lifecycle.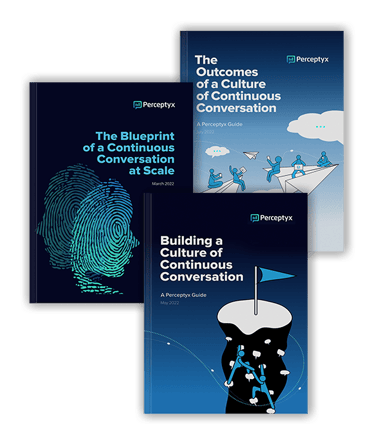 Our 3-part guide is designed to help you understand the components of a successful continuous listening and actioning strategy, discover which factors will have the most impact on people and performance, and then accelerate the right actions to ensure organizational health.
Part 1 outlines the essential blueprint of how to begin this conversation, and how it results in an evolving cycle of input, dialogue, and action.
In Part 2, we illustrate how leaders are transforming their listening strategy to help both their people and their business thrive.
In Part 3, we share how your entire organization can experience this culture, including successful examples from organizations like 3M, PepsiCo, and the Kellogg Company.
Complete the online form for instant access to all 3 installments.